Research article

Open Access

Open Peer Review
This article has Open Peer Review reports available.
Infrared micro-spectral imaging: distinction of tissue types in axillary lymph node histology
BMC Clinical Pathology
2008
8:8
Received: 15 February 2008
Accepted: 29 August 2008
Published: 29 August 2008
Abstract
Background
Histopathologic evaluation of surgical specimens is a well established technique for disease identification, and has remained relatively unchanged since its clinical introduction. Although it is essential for clinical investigation, histopathologic identification of tissues remains a time consuming and subjective technique, with unsatisfactory levels of inter- and intra-observer discrepancy. A novel approach for histological recognition is to use Fourier Transform Infrared (FT-IR) micro-spectroscopy. This non-destructive optical technique can provide a rapid measurement of sample biochemistry and identify variations that occur between healthy and diseased tissues. The advantage of this method is that it is objective and provides reproducible diagnosis, independent of fatigue, experience and inter-observer variability.
Methods
We report a method for analysing excised lymph nodes that is based on spectral pathology. In spectral pathology, an unstained (fixed or snap frozen) tissue section is interrogated by a beam of infrared light that samples pixels of 25 μm × 25 μm in size. This beam is rastered over the sample, and up to 100,000 complete infrared spectra are acquired for a given tissue sample. These spectra are subsequently analysed by a diagnostic computer algorithm that is trained by correlating spectral and histopathological features.
Results
We illustrate the ability of infrared micro-spectral imaging, coupled with completely unsupervised methods of multivariate statistical analysis, to accurately reproduce the histological architecture of axillary lymph nodes. By correlating spectral and histopathological features, a diagnostic algorithm was trained that allowed both accurate and rapid classification of benign and malignant tissues composed within different lymph nodes. This approach was successfully applied to both deparaffinised and frozen tissues and indicates that both intra-operative and more conventional surgical specimens can be diagnosed by this technique.
Conclusion
This paper provides strong evidence that automated diagnosis by means of infrared micro-spectral imaging is possible. Recent investigations within the author's laboratory upon lymph nodes have also revealed that cancers from different primary tumours provide distinctly different spectral signatures. Thus poorly differentiated and hard-to-determine cases of metastatic invasion, such as micrometastases, may additionally be identified by this technique. Finally, we differentiate benign and malignant tissues composed within axillary lymph nodes by completely automated methods of spectral analysis.
Keywords
Axillary Lymph Node
Hierarchical Cluster Analysis
Excise Lymph Node
Medullary Cord
Single Beam Spectrum
Background
At present, breast cancer is the most common malignancy found among women, with high death rates recorded in the United Kingdom (13,000 p.a.) and the United States of America (40,000 p.a.) [1]. The introduction of mammography programs, together with greater public awareness of breast cancer, has significantly improved the early detection of breast cancers and thus their effective treatment. Although x-ray mammography can readily identify areas of tumour growth within the breast, it cannot be reliably used to diagnose whether a tumour is benign or malignant in nature. The accurate diagnosis of a suspicious lesion therefore necessitates an invasive procedure to obtain a tissue biopsy. An additional tool for diagnosis or staging of disease is the assessment of lymph nodes in the ipsilateral axilla. The presence of metastasis is an indicator for local disease recurrence and thus a method for identifying patients that are at high risk of developing disease that could spread throughout the body. The well established procedure to assess lymph node metastasis is axillary lymph node dissection (ALND). This involves the surgical removal of all or most lymph nodes that exist under the arm. However, this is a rather substantial surgical procedure and can lead to several serious side effects, including shoulder dysfunction and lymphodema [2]. More recently, intra-operative diagnosis of excised lymph nodes has been used within a small number of hospitals. Such rapid diagnoses are made upon the sentinel lymph node that has direct lymphatic connection to the breast tumour [3]. Surgical studies have clearly shown that if metastasis cannot be found in the sentinel lymph node, the chance of disease being found further down the chain of nodes is negligible, thus alleviating the necessity to remove all nodes present [3].
Biopsy material collected during these surgical procedures are subsequently scrutinised using traditional histological techniques [4], whereby dyes are introduced that stain different cellular components different colours. These staining patterns provide the basis for morphological pattern recognition, allowing a trained observer to distinguish between healthy and diseased tissue. However, traditional histology remains a subjective technique, with significant problems often encountered. These include missed lesions and unsatisfactory levels of inter- and intra-observer agreement [5–10]. Alternative techniques have been employed to facilitate faster intra-operative diagnosis of sentinel nodes, including imprint cytology [11, 12], and frozen section analysis [13, 14]. The processing of samples is accelerated for these techniques, involving an analysis time of approximately 30–60 minutes. Yet, both approaches report wide variation in their sensitivity to detect cancerous lesions, detection levels as low as 44% and as high as 93% when compared with conventional histology [11–17]. These variations indicate that such methodologies do not solve the problems associated with screening lymph nodes.
The lack of a reliable tool to swiftly diagnose both conventional and intra-operative surgical specimens has led to a considerable amount of interest in the application of a spectroscopic approach. Fourier Transform infrared (FT-IR) spectroscopic imaging is rapidly becoming a key technique for biomedical spectroscopy since it provides spatially resolved chemical characterisation of microscopic areas. Using this technique, contrast between different spatial areas occurs due to inherent chemical differences found within cells of the tissue, producing molecule-specific vibrational signatures. A chemical image of the tissue section can then be constructed that is similar to the morphological interpretation of a stained image, thus enabling the identification of tissue classes and providing an insight into their molecular composition. An FT-IR spectroscopic approach, therefore, has several advantages over conventional histology. For example, an infrared micro-spectral image collected from a tissue section measuring 5 mm × 5 mm, using a spatial resolution of 25 μm × 25 μm per spectral measurement, consists of 40,000 individual objective measurements that describe the biochemistry of the tissue regions. Recent advances in instrumentation, that employ multi-channel detector systems and fast interferometry, allow the collection of such spectral datasets within a matter of minutes, and the continuing improvements in technology are expected to reduce data collection times dramatically. Paraffin embedded specimens that have been deparaffinised, or snap frozen sections may be examined using this non-destructive technique. The most important aspect of the proposed FT-IR approach is that it provides an unbiased computer based technique that can ultimately be automated. This paper reports progress made within our laboratories to automatically diagnose spectral data collected from both frozen and deparaffinised axillary lymph node tissues.
Methods
Figure
1
shows a schematic diagram of the work flow for training/validation and test phases of the work reported here. It should be noted that the time-consuming cluster analysis is required only in the training phase of the diagnostic algorithm, and that the final analysis of unknown lymph node data sets can be performed within a minute of data collection.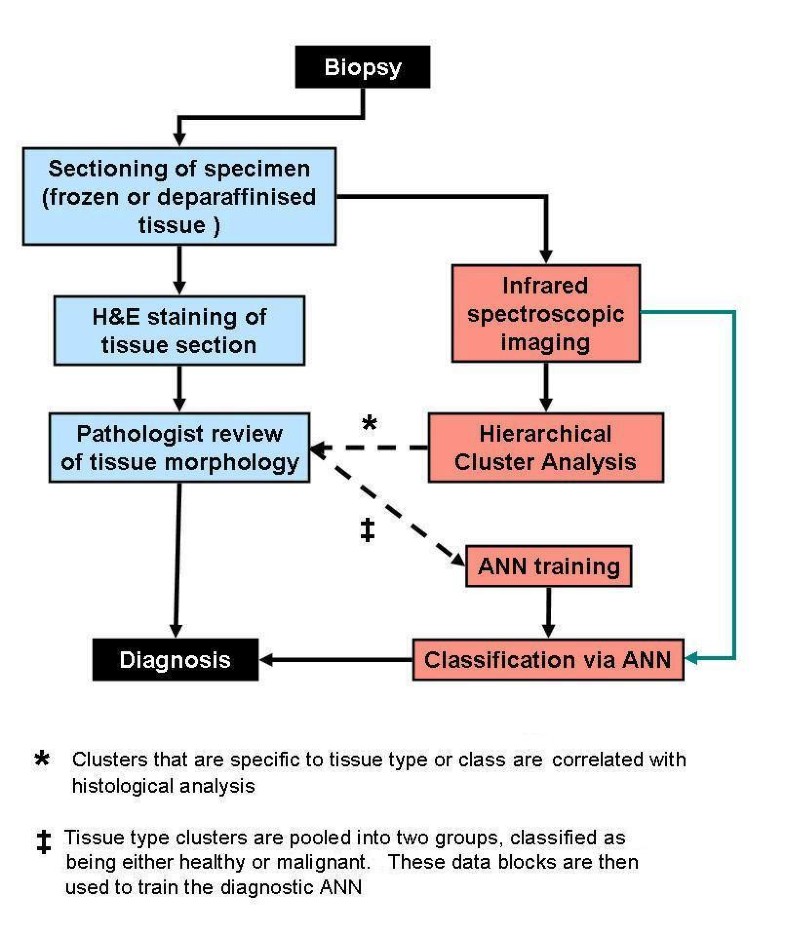 Results and discussion
After verifying the clustering structure that most directly reproduced tissue histopathology, spectra from each cluster were extracted into a reference library, as described previously, and used to train a diagnostic neural net for the classification of frozen axillary lymph node tissues. The trained neural net was then directly applied to the original spectral data set to confirm its sensitivity. Figure 2c displays the classification or ANN image that was constructed after supervised spectral analysis. By analysing the spectral data set using the ANN, each spectrum was classified as being cancerous, healthy or un-identifiable. These three class types were then assigned an individual colour, so that cancerous spectra were coloured red, non-cancerous spectra were coloured blue, and spectra that could not be identified or were rejected were coloured black. These colours were then plotted at the x, y co-ordinates from which each spectrum was recorded, thus creating a pseudo-colour ANN image. The entire classification and image re-construction procedure was completed in approximately one minute. By direct comparison of this ANN image, and those acquired from staining (Figure 2a) and HCA spectroscopic imaging (Figure 2b), a remarkable agreement is observed. Regions of the tissue section that were previously identified as being healthy cortex, capsule, medullary cords or medullary sinuses were correctly classified by the algorithm as being non-cancerous in nature. In contrast, the invading cancerous breast tissue that comprises a majority of the tissue area is correctly classified as being malignant. The number of additional black pixels is also very small, which indicates only a small amount of spectra could not be classified by the algorithm.
Conclusion
This paper provides strong evidence that automated diagnosis by means of infrared micro-spectral imaging is possible. By correlating spectral data acquired from unstained tissue, to morphological interpretations made by pathologists of stained tissue, automated algorithms were successfully constructed that can rapidly classify spectral data recorded from frozen and deparaffinised tissue into benign and malignant categories. This would indicate that both intra-operative and more conventional surgical specimens can be diagnosed by this technique, although frozen samples would be preferable since we are assured biochemical integrity is maintained. Present studies are focused toward extending this classification scheme to identify all subtypes of tissue composed with an excised lymph node, which has been successfully accomplished in several different organ models using different methods of supervised analysis [30, 37]. However, the application of this technology to solely identify morphological features that are discernable by a pathologist using H&E staining protocols falls short of what is achievable using this technique. Since a change to the molecular composition of a cell most likely occurs before a morphological change, there is a potential to identify abnormalities within tissue at an earlier stage disease. For example, activated lymphocytes that are reacting to an infection, or conversely a breast or metastatic cancer, could display different biochemical characteristics that are identifiable using this technology. Early or "pre-cancerous" stages of abnormality may also be discernable and provide prognostic rather than diagnostic information to a physician. Although the occurrence of such pre-cancerous stages of disease is not directly investigated in this study, the application of HCA spectroscopic imaging may help reveal such tissues. When employing a greater number of clusters to describe the tissue biochemistry than those identified by pathologists as being ideal, distinct bordering regions are often identified between healthy and abnormal tissues that may provide additional sensitivity to identify potentially suspicious cells. Our present focus lies toward the direct investigation and interpretation of such tissues, and the correlation of such intermediate states of disease with other non-morphological interpretations of tissue, such as immunohistochemical stains. The identification of micro features within tissues such as micro-metastases or isolated tumour cells is also vitally important. Recent experiments that have investigated breast micro-metastases within lymph nodes, using a superior pixel resolution of 6.25 μm2, have displayed a sensitivity to identify very small regions of abnormal tissue that encompass only a few cancerous cells. Such results are extremely promising, and shall be reported at a later date, but suggest infrared micro-spectral imaging can provide a sensitivity and specificity that rivals current screening protocols. Parallel studies on lymph nodes that display colon metastases have also revealed that cancers from different primary tumours provide distinctly different spectral signatures [44]. These observations have also been reported for similar studies on brain metastatic cancers [45]. Thus poorly differentiated and hard to determine cases of metastatic invasion may additionally be identified by this technique.
The spectroscopic data recorded in this investigation were acquired using instrumentation that employed a small linear array detector system, composed of only 16 detector elements. Thus, acquisition times of spectral data sets from very large lymph nodes was time consuming and in the hour timescale. However, more recently, instrumentation that employ 2nd generation Focal Plane Array (FPA) camera detector systems have become commercially available. These systems can simultaneously record 16,384 infrared spectra over a 700 μm2 area (128 × 128 pixels) with a pixel resolution of 5.5 μm2. Consequently, tissue sections that measure 5 mm × 5 mm in size can be spectroscopically imaged in ca. 10 minutes with superior pixel resolution. The rapid and continued development of IR detector array technology and IR instrumentation could feasibly lower this timescale to a few minutes or less.
Declarations
Acknowledgements
The authors would like to thank Dr. Rajyasree Emmadi from the John Stager Hospital of Cook County, and Dr. Jonathan Christie-Brown from the Gloucestershire Royal Hospital for their aid in sample collection and histopathological diagnosis.
We would also like to gratefully acknowledge the support of this research from three sources of funding: The Engineering and Physical Sciences Research Council (EPSRC) Physics for Healthcare program that supported work carried out at Nottingham University, the Department of Health's National Institute of Health Research (DH NIHR) Fellowship award for work undertaken at Gloucestershire Royal Hospital, and the National Cancer Institute of the National Institutes of Health for support of this work under grant CA 111330 (to MD).
Authors' Affiliations
(1)
Department of Chemistry and Chemical Biology, Northeastern University, Boston, USA
(2)
Biophotonics Research Group, Gloucestershire Hospitals NHS Foundation, Gloucester, UK
(3)
School of Chemistry, University of Nottingham, Nottingham, UK
Copyright
© Bird et al; licensee BioMed Central Ltd. 2008
This article is published under license to BioMed Central Ltd. This is an Open Access article distributed under the terms of the Creative Commons Attribution License (http://creativecommons.org/licenses/by/2.0), which permits unrestricted use, distribution, and reproduction in any medium, provided the original work is properly cited.