Research article

Open Access

Open Peer Review
This article has Open Peer Review reports available.
Abnormal expression of p27kip1 protein in levator ani muscle of aging women with pelvic floor disorders – a relationship to the cellular differentiation and degeneration
BMC Clinical Pathology
2001
1:4
Received: 2 July 2001
Accepted: 8 October 2001
Published: 8 October 2001
Abstract
Background
Pelvic floor disorders affect almost 50% of aging women. An important role in the pelvic floor support belongs to the levator ani muscle. The p27/kip1 (p27) protein, multifunctional cyclin-dependent kinase inhibitor, shows changing expression in differentiating skeletal muscle cells during development, and relatively high levels of p27 RNA were detected in the normal human skeletal muscles.
Methods
Biopsy samples of levator ani muscle were obtained from 22 symptomatic patients with stress urinary incontinence, pelvic organ prolapse, and overlaps (age range 38–74), and nine asymptomatic women (age 31–49). Cryostat sections were investigated for p27 protein expression and type I (slow twitch) and type II (fast twitch) fibers.
Results
All fibers exhibited strong plasma membrane (and nuclear) p27 protein expression. cytoplasmic p27 expression was virtually absent in asymptomatic women. In perimenopausal symptomatic patients (ages 38–55), muscle fibers showed hypertrophy and moderate cytoplasmic p27 staining accompanied by diminution of type II fibers. Older symptomatic patients (ages 57–74) showed cytoplasmic p27 overexpression accompanied by shrinking, cytoplasmic vacuolization and fragmentation of muscle cells. The plasma membrane and cytoplasmic p27 expression was not unique to the muscle cells. Under certain circumstances, it was also detected in other cell types (epithelium of ectocervix and luteal cells).
Conclusions
This is the first report on the unusual (plasma membrane and cytoplasmic) expression of p27 protein in normal and abnormal human striated muscle cells in vivo. Our data indicate that pelvic floor disorders are in perimenopausal patients associated with an appearance of moderate cytoplasmic p27 expression, accompanying hypertrophy and transition of type II into type I fibers. The patients in advanced postmenopause show shrinking and fragmentation of muscle fibers associated with strong cytoplasmic p27 expression.
Keywords
Pelvic Floor
Stress Urinary Incontinence
Pelvic Organ Prolapse
Luteal Cell
Pelvic Floor Disorder
Background
Pelvic floor disorders (PFD) are highly prevalent among elderly women. Many surgical reports attempt to determine the best surgical treatment for PFD, yet do not address the pathophysiology. The etiology of PFD is probably multifactorial, including a genetic predisposition to connective tissue abnormalities, vaginal childbirth with damage to the innervation of the pelvic floor muscles, estrogen deficiency, and aging effects [1]. The pelvic floor, situated at the bottom of the abdominal cavity, forms a supporting shelf for the abdominal and pelvic viscera. It has three layers: the endopelvic fascia, the levator fasciae and muscles, and the perineal membrane/external anal sphincter.
The primary support for the pelvic organs comes from the pelvic floor muscles [
1
,
2
]. This suggests that an alteration to the levator ani supportive function may significantly contribute to the pathogenesis of PFD [
3
], which affect 5% of younger and nearly 50% of elderly women [
2
]. In women, the levator muscles form a horizontal shelf with an anterior midline cleft (the urogenital hiatus) through which the urethra, vagina, and rectum pass. Anatomically, the levator muscle is subdivided into the iliococcygeal and the pubococcygeal muscles [
4
,
5
] (Fig.
1
).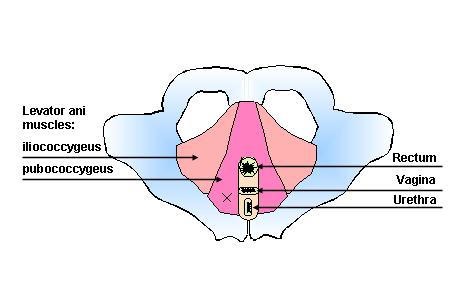 The levator ani muscles play an important role in bladder neck fixation provided by the suspensory sling and hiatal ligament [6]. The urethra is supported by the action of the levator ani muscles through their connection to the endopelvic fascia of the anterior vaginal wall [7], and the muscles of the levator ani contract during a cough to assist continence [8]. The fast twitch type II fibers in the levator ani muscles play an important role in continence, and their loss accompanies the development of urinary incontinence [9]. Clinically, women with recurrent urinary incontinence after Burch colposuspension have a more pronounced pelvic floor weakness than women with primary stress urinary incontinence [10]. This suggests that the recurrent urinary incontinence is caused by a progression of pelvic floor dysfunction. Severe alteration in the levator ani integrity is associated also with fecal incontinence [11–13].
Histologic and histochemical analysis of pubococcygeal muscle obtained from asymptomatic women and from women with PFD has shown that both age and parity (vaginal delivery) appeared to be related to the morphological features of the samples. In the symptomatic women there was a significant increase in the number of muscle fibers showing pathological damage. The range of diameters of both type I and II fibers was significantly different between symptomatic and asymptomatic women. A significant proportion (90–100%) of muscle fibers in symptomatic women were type I fibers, showed centrally located nuclei, and exhibited significantly greater diameter than type I fibers in asymptomatic women [3].
However, the cellular and molecular aspects of regression of type II fibers are poorly understood. Though apoptosis in adult muscles has been described, and may result from changes within bcl2/bax system, alteration in pathways that regulate differentiation of muscle cells, changes in the myonuclei, and the nature of pathways inducing senescence of skeletal muscles are still far from being clear [14].
Among cell cycle related proteins, an important role in the regulation of skeletal muscle differentiation belongs to p27kip1 (p27) protein [15], a cyclin-dependent kinase inhibitor required for cell cycle arrest. Additionally, since the identification and cloning of the p27 gene in 1994 [16], the p27 protein has been shown to be involved in various other aspects of cell physiology and pathology [17]. Our previous study has shown, that differentiation of cells in tissue culture is associated with an increase in p27 expression [18]. Although a regular p27 expression protects normal cells from apoptosis, overexpression of p27 induces apoptosis of cells, through elevation of proapoptotic proteins, such as Bax [19, 20]. These observations indicate that changes in p27 expression can determine the fate of muscle cells.
Aims of the present study were to investigate p27 expression in levator ani muscle of symptomatic women, determine changes with age, and compare the p27 expression with histochemical detection of fast- and slow twitch muscle fibers in parallel sections.
Conclusions
This is a first report on the p27 protein expression in normal and abnormal human striated muscle cells in vivo. Normal muscle fibers show strong nuclear and plasma membrane expression. Cytoplasmic p27 staining accompanies perimenopausal transition of type II to type I fibers. In the absence of other muscle abnormalities, the diminution of type II fibers alone is not necessarily accompanied by PFD. Pelvic floor disorders in perimenopausal patients are associated with the hypertrophy of muscle cells and moderate cytoplasmic p27 expression, while PFD during advanced postmenopause are associated with shrinking and fragmentation of muscle cells and cytoplasmic p27 overexpression. The cytoplasmic and plasma membrane p27 expression is not unique to the muscle cells, since it can also be detected to occur, at least temporarily, in other cell types.
List of Abbreviations
PFD:

pelvic floor disorders
p27:

p27kip1
PBS:

phosphate-buffered saline
CL:

corpus luteum or corpora lutea
cdk:

cyclin-dependent kinase
p21:

p21Cip1/WAF1.
Declarations
Acknowledgments
Authors thank the Editors for the selection of highly competent reviewers, and to the reviewers for their exceptionally professional and constructive criticism regarding both general significance of abnormal p27 expression in muscle fibers and clinical aspects of the manuscript. This work was supported in part by the Physicians' Medical Education and Research Foundation grant #93040, Knoxville, Tennessee, to A.B.
Authors' Affiliations
(1)
Laboratory for Development, Differentiation and Cancer, University of Tennessee, Knoxville, USA
(2)
Department of Obstetrics and Gynecology, University of Tennessee, Knoxville, USA
(3)
Department of Pathology, The University of Tennessee Graduate School of Medicine, Knoxville, USA
Copyright
© Bukovsky et al; licensee BioMed Central Ltd. 2001
This article is published under license to BioMed Central Ltd. This is an Open Access article: verbatim copying and redistribution of this article are permitted in all media for any purpose, provided this notice is preserved along with the article's original URL.